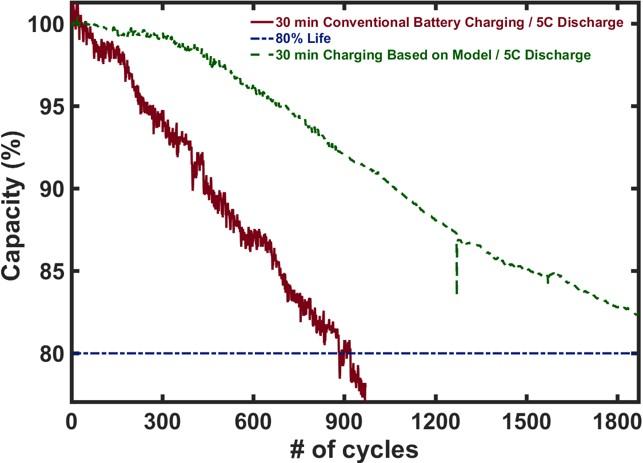 SEATTLE, Sept. 13, 2021 /PRNewswire/ — The world is looking toward a renewable energy future. But taking full advantage of solar and wind power or electric vehicles will require safe and reliable energy storage solutions. Lithium-ion batteries are promising, but they only last for between 300 to 500 cycles—or two to three years when charging them ultra fast.
But BattGenie, Inc. is changing the way industry thinks about lithium-ion battery lifecycles. Their advanced battery management system adjusts how the battery functions to improve lifespan and reduce the amount of time to a full charge.
"Our software can improve the life of a battery by 200 percent while reducing charging time," says Chintan Pathak, CPO and co-founder of BattGenie. "If you're using a phone, your business can continue with a short stop to charge the phone. Electric vehicles can have smaller batteries or batteries with significantly longer life. This also means that you get a longer driving range with our approach per cycle compared to the existing method. And for stationary storage, you can go much longer between battery replacements or extract more energy out of the batteries over their lives."
BattGenie uses porous electrode pseudo-2-dimensional (P2D) models to run its first-in-kind system that can solve and implement battery operation solutions in milliseconds.
"Our software produces an advanced, physics-based model of the inner workings of lithium-ion batteries, then uses details gleaned from this model to adjust the charging profile of the battery to avoid degradation. We have the fastest, most advanced physics-based model ever displayed," says Venkat Subramanian, co-founder of BattGenie and a Fellow of the Electrochemical Society (ECS). The initial research for BattGenie was done in Subramanian's lab. An EDC II Professor of Mechanical Engineering and Material Sciences at the University of Texas at Austin, Subramanian is also BattGenie's CTO and Chief Scientific Advisor.
Read the full post here.